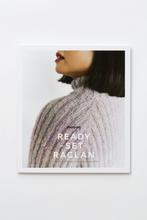 Ready Set Raglin from Pompom
Join the Pom team in exploring one of our favourite designs!   A follow-up to Knit How takes the straightforward raglan-sleeve pullover as a blank canvas and walks you through all the ways to make it your own. We offer blueprints for 8 distinct raglans and coach you through choosing perfect-for-you necklines, hemlines, ribbing, stitch textures, and fancy raglan increases. And, of course, we show you how to create jaw-dropping colour combinations.

Theses raglans are designed to empower improving knitters with customisation skills, but also to free advanced knitters to fly through stressless shapes, easy customisations, and the joys of colourplay. For the truly adventurous, we even provide a formula to design your own raglan! Let's all get out our sketchbooks and dream together.
---
More from this collection