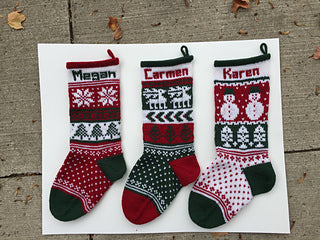 Christmas Stocking Workshop
Three-session class with Beth
Saturdays, September 25, October 2nd and 16th, 4:00 – 6:00PM
Do you have a new member of the family who needs a knitted Christmas stocking to match the ones Grandma made in 1970?  Consider this workshop for help on getting started.  Your instructor Beth can help you find the pattern if you don't have one.   Consider using Ultra Wool and buying your supplies at Great Yarns.   Knitters should be comfortable with knitting in the round and with 2 colors.  Other techniques will be coached.
 Pattern:  TBD by you and Beth 
Yarn:  Ultra Wool or anything you choose!
---
More from this collection